Endnu engang er tirsdag morgen grå og overskyet efter nogle vidunderlige dage. Gad vide hvad der er med tirsdage? Der er mig bekendt heller ikke nogen sange, der handler om tirsdage.Det eneste, der falder mig ind efter at have vredet hjerne er Kaj og Andreas Tirsdagsvers fra Ugesangen
Once again a grey and cloudy Tuesday with a promise of rain later. I wonder what it is with Tuesdays? I do not know any Danish songs or poems abut Tuesdays. Just this part of a "Song of the Week" by Kaj and Andrea. And the only English one, that comes to my mind is
Tuesday Afternoon
and that's neither here nor there on a grey Tuesday morning.
Tyve torsk til tirsdag, tænker tretten traner
tyve torsk til tretten trætte traner.
Traner tænker tem'lig tumpet tirsdag.
This is a word for word translation of the Danish text. I can't find a way to make all the words start with a T-sound.
Twenty cods for Tuesday, Thoughts of thirteen cranes.
Twenty cods for thirteen tired cranes.
Cranes are thinking somewhat stupid Tuesday.
Kaj and Andrea were two puppets in a TV-program for children in the 1970s, they were very popular, and all the songs are still sung by preschoolers in Denmark.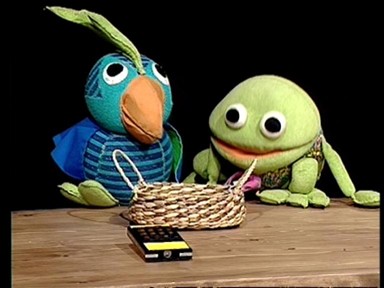 Andrea, the charming,

cautious

parrot
and Kaj, the jazz-loving boisterous frog.
Solopgang/solnedgang: 6:11/20:12, dagens længde 14:01, tiltaget 7:11